Air Filtration Systems, UV Light Air Purification Systems & Dehumidifier Installation

Dos Palos, CA, Newman, CA;, Gustine, CA & Los Banos, CA
Do you want cleaner air inside your home?
Los Banos, Gustine, Dos Palos, Newman, Atwater, & Patterson, CA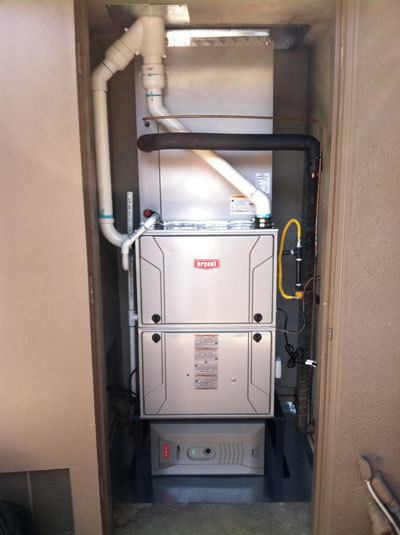 Of course you do. Indoor air is often more contaminated then outside air. It's about 4 or 5 times more polluted than outside air! Dust and dust mites, pollen, cooking residues, tobacco smoke, cleaning products, mold spores, chemical residue from construction products and furniture, etc. All these things can accumulate inside your home and make the air you breathe, every day, a long-term health hazard.
Air Filtration
Electronic Air Cleaner is the industry's most effective whole house air filtration system, capable of removing up to 99.98% of particles and allergens from the filtered air.
Contact Young's Air Conditioning about installing an air filter and cleaning up the air your family breathes at home.
UV Light
Mold and bacteria can grow on the surface of your cooling coil. Left unchecked, buildup of these contaminants can reduce system efficiency and release potentially harmful pollutants such as mold spores and unpleasant odors into the air you breathe. UV lamps are designed to bathe your cooling coil with intense UV-C light. These lamps sterilize coil surfaces to maximize system efficiency and protect the air you breathe. For your convenience, no cleaning is required – just replace the lamps one a year.
Air Quality Testing
Have the air in your home tested. If it's contamination levels are too high we have solutions to get it back under control.
Contact Young's Air Conditioning about Indoor Air Quality Testing
Clean Air Ducts
Dust and other contaminants can accumulate in your home duct systems. The air thats ventilating throughout your house is then continually in contact with high concentrations of pollutants. If moisture levels in your home get too high mold can begin to grow amongst all this dust. Having your duct inspected by the professionals here at Young's Air Conditioning can help determine if your ductwork should be cleaned or replaced.
The sources of indoor air pollutants are truly vast. We've collected some links to government agencies and advocacy groups with reports on these topics.
Resources:
Find out the Air Quality Index (AQI) where you live
An Introduction to Indoor Air Quality (IAQ)
Indoor Air Quality from the American Lung Association
Indoor Air Quality and Allergies 
---
Humidifier Installation in Dos Palos, CA | Air Filtration Systems Gustine, CA | Air Purifier Installation Newman, CA;
Dehumidifier Installation

∴

UV Light Air Purification Systems

∴

Air Purifier Installation

∴

Air Filtration Systems

∴

Indoor Air Quality Systems ∴ Los Banos, CA ∴ Gustine, CA ∴ Dos Palos, CA